Enrolling in a Catholic School is more than just choosing a better education:
IT IS ABOUT CHOOSING A BETTER LIFE.
Within the Diocese of Dallas, we believe that Catholic Schools need to be excellent across five domains in order to thrive: Academics, Community, Catholic Formation, Facilities, and Finances. Catholic Schools need to be reflective of the needs of their communities and serve the greater interests of those they serve. At our best, Catholic Schools are not merely good for Catholics – Catholic Schools are good for Dallas. You can read more about the long term strategic plans in these reports: Reach for the Future: A Blueprint for Excellence and Our Students, Our Future: A Roadmap for Excellence.
---
Catholic Identity
---
Faith formation is an important part of every Catholic School. Our schools ultimately form individuals who are capable of putting faith into action within their daily lives.
---
---
Community Vitality
---
Our students are formed in the faith so that they will serve within the local community, seek to change the world around them, and be champions of virtue. Our diverse campuses are reflective of the mission of the global church, while grounded in the values that make Texas unique.
---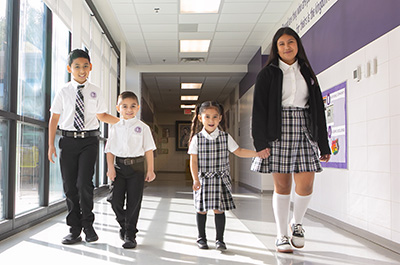 ---
Facilities
---
Our facilities reflect the latest educational trends but apply them in ways that respect the traditions of our past and allow us to grow in cost-effective and responsible ways within the future.
---
MILLION HOURS OF FORMATION PER YEAR
Notice Of Racial Nondiscriminatory Policy As To Students
Catholic Schools in the Diocese of Dallas admit students of any race, color, national, and ethnic origin to all the rights, privileges, programs, and activities generally accorded or made available to students at the school. They do not discriminate on the basis of race, color, national and ethnic origin in administration of their educational policies, admissions policies, scholarship and loan programs, and athletic and other school-administered programs.